Why Invest in a Franchise versus Start from Scratch?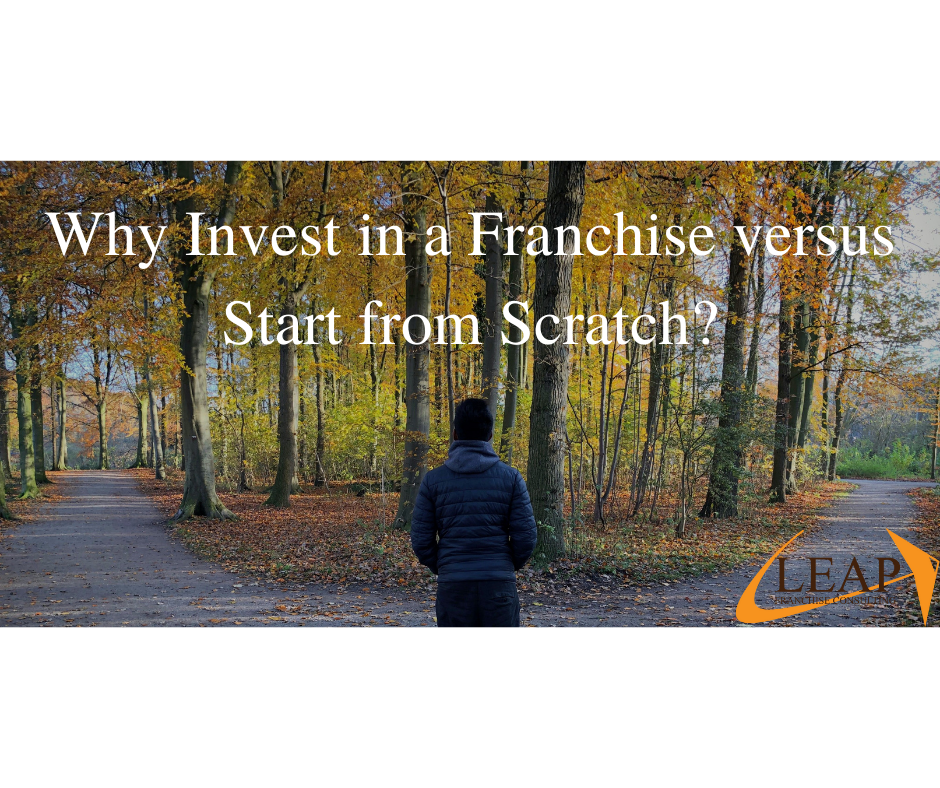 When frustrations spike at work, most of us have wished to be our own boss. There are executives who still have to ask permission to take a day off. There are key employees that generate a large portion of the revenue for a company, but feel under appreciated. Neither mundane activities nor stresses of critical deadlines provide fulfillment. All these forces cause us to dream about starting our own business, but where do we begin?
A great solution for those who want to start their own business, but don't know how, is to look into franchising. There are many advantages to opening a franchise over going at it alone for the aspiring entrepreneur. Here are just a few.
Be Your Own Boss
When investing in a franchise, you own the company. You are the boss. Although there are some restrictions that a franchisor may place on the company (like hours of operation or marketing styles), you own it and operate it, making the majority of the choices. You get to choose vacations, when you go into the office, which employees you hire and fire, and set the tone for the workplace. You have autonomy. You determine how hard to drive the company to perform or how much to let go to focus on other aspects of life. There is no more corporate ladder to climb or supervisor to please. 88% of franchisees are motivated by this exact sentiment (Franchise Insights). Franchising provides the opportunity for you to lead and direct the success of your company.
Higher Earning Potential
Becoming a franchisee also increases your earning potential. The performance of your business directly impacts what you take home. There is no more fixed income, waiting for promotions, or hoping for a Christmas bonus. As your company grows, your earning potential grows with it. As the business owner, you earn the profits of the company, not an hourly wage or salary, allowing for a much higher earning potential. The franchise model also offers economies-of-scale that most small business owners cannot capitalize upon. As the brand opens more units, they can offer greater discounts for vehicles, equipment, materials, training, and inventory. Lowering the expenses increases the operating margin and increases your earning potential.
Higher Success Rates with Franchises
The BLS reports that roughly 50% of independent businesses are in operation after 5 years while over 90% of franchises are still in business after the same period of time (BLS). When you consider that one in every twelve businesses in the US is a franchise, and that over a third of all US retail sales are franchises, the statistics greatly support the power of franchising as a successful business model (Entrepreneur.com). Franchises provide the ongoing support for you, while you focus on the profitability and operation of your business. The collaboration between franchisor and franchisee creates a synergy that drives a higher success rate for the business.
The number one reason most companies fail is lack of capital. This lack of capital often stems from unknowns. When starting a business from scratch, unanticipated costs, poor estimations, mismanagement of funds, and lack of initial capital all contribute to their closing (CBInsights). Franchisors, however, don't have such extensive unknowns. They report the estimated initial investment of their business in their Franchise Disclosure Document ("FDD"). They update those requirements annually to most appropriately reflect what is financially required for their franchisees to succeed. In most instances, if a prospective franchisee lacks the franchisor's net worth or liquid capital requirement, then a franchise is not awarded. Franchisors provide a business model with known expenses and investment to increase your success to be above 90%.
Expedited Launch Time
Another reason for starting a franchise is the expedited launch time. You become profitable more quickly because the franchisor provides training, vendor contracts, policies and procedures, operations manuals, systems, and more. Many of those projects don't directly affect the bottom line, so it can take years to develop if you are starting your own business. These are handed to you premade, and you are trained on them when you invest in a franchise. This provides the opportunity for you to enjoy operating the business much sooner and with greater profitably.
Access to Funding
Although some can fund a business venture with the money in their savings accounts, many have to find lenders to help with the initial investment. The most common lenders are friends and family members. If the investment is less than $50,000, then the next option would be for unrestricted lines of credit such as credit cards. If the investment is greater than $50,000, the next options would likely be banks or other lending institutions. With how many businesses close their doors due to lack of capital, many banks are hesitant to fund new startups without a proof of concept or large down payment. However, banks are more inclined to lend to franchises because the concept is proven and they have higher success rates. Many franchises have third-party lenders who will help franchises get started.
In addition to this, the Small Business Administration has a portion of their loan allotment designated to franchises. They have an express loan for amounts between $50,000 and $150,000, and a standard loan amount for up to $5M. They only require 15% down, which keeps more operating capital available for the venture. You can verify if the franchise you are interested in is registered with the SBA.
Training and Support
One of the greatest offerings that generates franchise buy-in is initial and ongoing training. Depending upon the complexity of the business, franchisors typically offer between a week to several weeks of initial training to ensure the franchisees fully understand the business. This includes company culture, history, invoicing, technology, HR, accounting, sales, marketing, operations, etc. After the initial training, many offer mentoring or launch team support. They may have someone personally coaching you through operations for up to a year. Most franchises have annual conferences with all the franchisees for training, morale, best practices, and rewarding of top performers.
While you are operating the business, the franchisor is doing Research and Development to improve operations. They are taking feedback and best practices from franchises to benefit the entire brand. They are watching for new technologies or products that improve the competitive advantage of their franchisees. The franchisor is only as successful as their franchisees. So their main focus is not bringing on new franchises, but rather having their existing franchises thrive and prosper by offering ongoing training and support.
Location Selection
"Location, location, location" is a critical mantra for any brick-and-mortar business's success. There is a great deal of pressure on this critical decision for most business owners. Some franchisors help with site selection to varying degrees. Some just share a few requirements that a location must meet. Others have in-depth market analysis that help determine locations based upon a ratio of revenue generation versus cost. Some have dedicated divisions that will help negotiate on your behalf for the best prices of premium locations. In addition, franchises are generally preferred by most malls and shopping centers due to their proven model and brand recognition.
Marketing/Advertising
Marketing and advertising requires creativity and experimentation. Marketing determines the message customers receive. Franchisors and franchisees partner together to create a strong brand that drives customer loyalty on a local and national level. Ideally, the franchisor has already defined the message that drives the most traffic to the local business.
Many franchises have a marketing fund that the franchisor and franchisee contribute to. The local business owner does not have to experiment and test alone. Franchises have a national headquarters that provides a framework from which to operate.
There are many fundamental things that a franchisor provides to the franchisees for marketing. They typically create the website, social media pages, campaign scripts, door hangers, flyers, brochures, banners, logos, slogans, tag lines, vehicle wrappings, images, and more to get you started. But the most advantageous thing they offer is best practices. When they are a more mature concept, they know the most effective strategies to target customers. They have often already experimented and know what works best.
Scalability
Franchises want to scale and help their franchisees grow. Franchisors can help franchisees penetrate secondary and tertiary markets by offering additional territories. Everyone benefits from the success of your partnership. Opening multiple units provides greater brand recognition in your area and bolsters your influence in the community.
Another opportunity many franchises offer is called an Area Representative. This is when you have greater than 5 or more territories and sell the territories to sub-franchisees under you. Then, you collect a part of the royalty from those franchisees. Your role is more strategic and your engagement is with those business-owners rather than the day-to-day operations of the business. This is a long term growth strategy for those who want a larger scale investment plan or desire to operate on a more strategic level.
Find the Best Franchise for You
There are many motivators for those who want to start their own business. It is something many of us idealize and aspire to do. Above lists many pragmatic reasons to start with a franchise rather than starting a business from scratch. As you are completing your due diligence and considering the advantages of a franchise, seek counsel from a Certified Franchise Consultant to help you navigate the many options available. Make the LEAP of faith and find soaring results with the right franchise concept for you.
---